Be heard loud and clear with the Streamplify MIC TRIPOD Microphone. Equipped with an adjustable tripod, you have great flexibility when it comes to placing this cardioid microphone. Plus, with RGB lighting, this is going to look stylish no matter what content you produce. Whether you're streaming, vlogging, or podcasting, the two audio out modes can be used to best support the content you make. What's more, your audience will enjoy audio free from plosive sounds and air interference thanks to the integrated pop filter. Plus, with a quick mute function, you have full control in your hands.
THE FEATURES OF THE STREAMPLIFY MIC TRIPOD RGB MICROPHONE WITH TRIPOD AT A GLANCE:
Cardioid microphone with pop filter designed for streaming
RGB lighting with two RGB modes and 8 effects
Fully adjustable microphone arm with shock mount included
High sound quality for ultra-clear audio
Pro-grade materials and professional design making a premium microphone
Two audio out modes: Full and One Way Playbacks
Quick mute function
CRYSTAL CLEAR AUDIO
Utilising pro-grade materials, the Streamplify MIC TRIPOD delivers crystal clear audio, every time. With a cardioid pick-up pattern, the front of the microphone is very sensitive whilst the sides and back have near-zero sensitivity. As a result, no unwanted noise is picked up by the sides and back of this microphone. Leaving you confident your audio is uncorrupted by background noise.
Enhancing clarity, a pop filter is integrated into the design of the Streamplify MIC TRIPOD. This protects your audio from pesky plosive sounds, caused by letters like p, b, and t, as well as any air interference. Pop sounds are reduced, leaving your audio crisp. What's more, you can take full control thanks to the quick mute function. Silence your audio on the fly, for when life interrupts your streaming. The mute button also doubles as a volume wheel.
TWO AUDIO MODES
Granting multi-functionality, the Streamplify MIC TRIPOD Microphone is equipped with two audio playback modes. These are Full Playback Podcast Mode and One-Way Playback Gaming Mode. Both modes are tailored for different uses, optimising the Streamplify MIC TRIPOD for your content.
The Full Playback Podcast Mode plays your audio back, allowing you to fine tune your content for the best listening experience. As the name would suggest, this is great for recording podcasts. One-Way Playback Gaming Mode is better suited to streaming, as you won't be distracted by the playback in your headset. You can speak your mind and concentrate on those critical battle moments.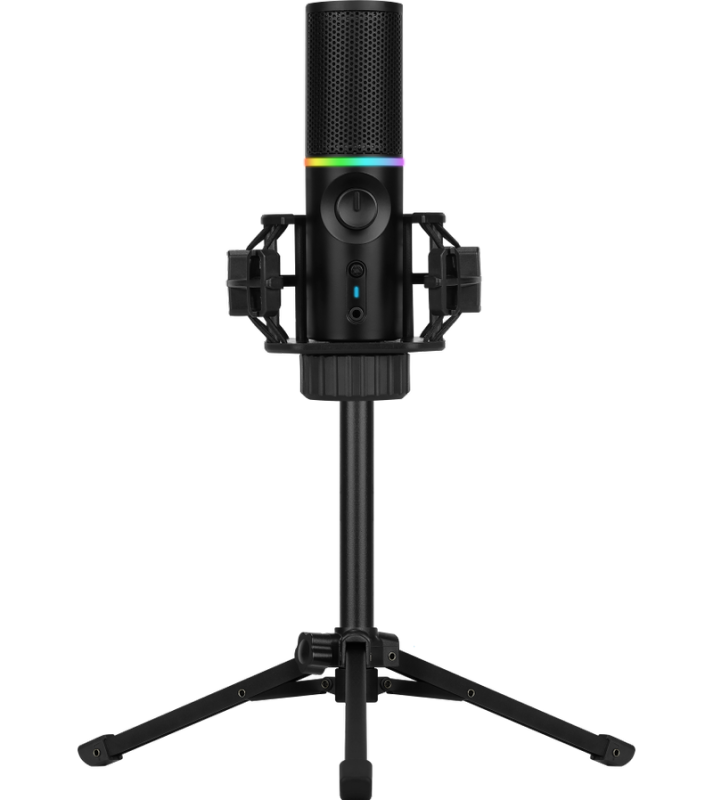 TRIPOD
Included with this microphone is an adjustable tripod. For its base, the Streamplify MIC TRIPOD is equipped with anti-vibration shock mounts on each of the feet, meaning it will absorb any knocks and bumps before they reach your microphone. Featuring a tightening screw, you can easily adjust the height of this tripod to suit your needs whilst it remains stable on your gaming desk.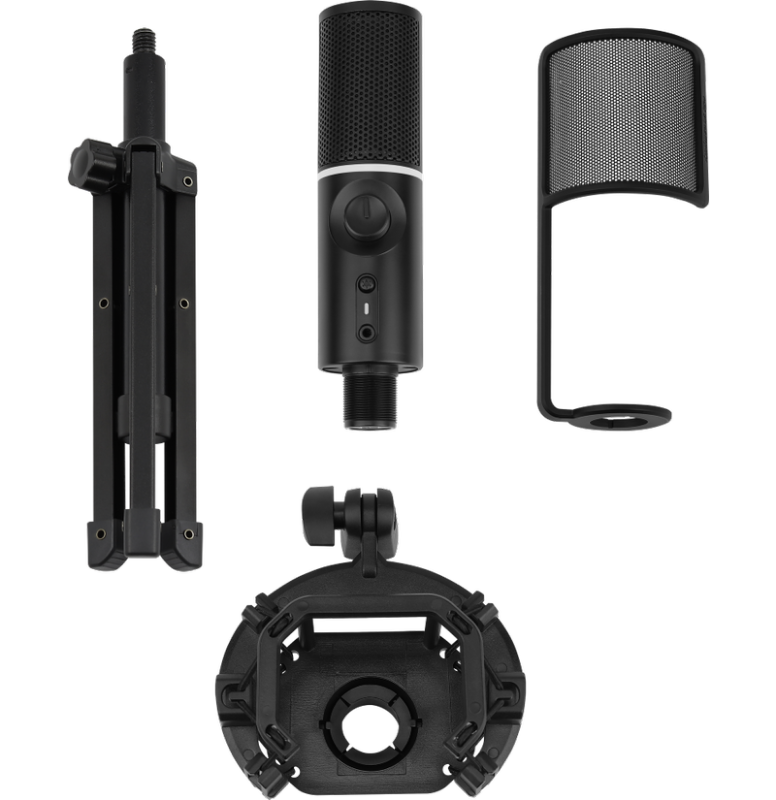 RGB LIGHTING
Adding a splash of colour and style, the Streamplify MIC TRIPOD features RGB lighting in a ring below the microphone head. This lighting reacts to the mute function, turning red when activated. Additionally, there are eight preset effects and two lighting modes to cycle manually through.
As with the rest of the Streamplify range, this microphone utilises a plug and play interface. This means no additional drivers or software are required for you to get the best out of this hardware. Simply plug into an available USB 2.0 port and enjoy.
STREAMPLIFY MIC TRIPOD RGB MICROPHONE WITH TRIPOD SPECIFICATIONS:
Brand
Streamplify
Model
MIC TRIPOD
Sensor Type
Ø16mm condenser capsules
Number of Condensers
1
Pick-up Pattern
Cardioid
Sampling Rate
16bit, 48Hz
Frequency Response
100Hz - 18kHz
Signal to Noise Ratio
>85dB
Sensitivity
-36dB ± 3dB
Sound Pressure Level
120dB
Impedance
< 680 ?
THD
<0.1% (at 1kHz)
Audio Out
3.5mm jack
Mute Function
Yes
Tap to mute with LED indication
Lighting
RGB
8 effects
2 RGB modes
Power Required
5V 500mA
Plug and Play
Yes
Standard UVC and UVA protocol
Interface
USB 2.0 type A
Compatible to type 3.0 connector
Cable Length
180cm
Compatible Device
PC
Laptop
PS4
PS5
Xbox Series X/S
Supported Software
Streamlabs
OBS
Twitch Studio
Zoom
Microsoft Teams
Google Meet
Skype
Compatible OS
Windows 11 / 10 / 8 / 7 / Vista / XP
Mac OS
Chrome OS
Additional Material
User manual available for download