Streamplify offer everything you need to start your streaming career. With the Streamplify CAM FHD 60FPS Webcam you can capture crisp, high-quality video to share with your growing community. The 2.0 megapixel camera has a full HD resolution at 60 frames per second. With its all-glass lens, this webcam has auto adjustment features for presenting you in the best natural lighting and focus. Plus, with a 90° field of vision, you can craft the perfect backdrop for your livestream or vlog. Supported by many popular applications, like OBS and Twitch Studio, this is the perfect webcam for recording your content – either in MJPEG or YUV2.
THE FEATURES OF THE STREAMPLIFY CAM FHD 60FPS WEBCAM AT A GLANCE:
2.0 megapixel webcam with Full HD 1080p resolution
Captures at MJEPG at 60FPS
Versatile clip compatible with laptops, monitors, and even desks
All glass lens with auto-focus and light enhancement features
Plug and play with no additional drivers required
Integrated dual-stereo microphones with Realtek solution
Supported by popular streaming and video call apps
HIGH RESOLUTION
With the Streamplify CAM FHD 60FPS Webcam you can capture amazing quality video for your live stream, work conference, or family video chat. The image resolution is in full HD 1080p at 60 frames per second, and can be saved as either MJPEG or YUV2 files. This creates smooth playback of crisp and clear footage. Thanks to the 2.0 megapixel camera, the picture has amazing definition, picking up the finest details.
To frame your livestream perfectly, the Streamplify CAM has a tilt and swivel function. Tilt the webcam up to 45° up or down and swivel through the full 360°, allowing you to fully adjust the position of this webcam to best suit your needs. Plus, when not in use, there is a privacy slide to cover the camera ensuring you can leave this device plugged in and set up for when you need it next.
ALL GLASS LENS
The Streamplify CAM FHD 60FPS Webcam is equipped with an all glass lens, a premium solution that enables fast and smooth automatic picture adjustment. As such, this webcam features auto-focus and light enhancement to keep your video in focus and naturally lit. These work together to create sharp images that keep you in the best lighting, seamlessly adjusting as the environment around you changes.Granting you a widescreen canvas to work with, the Streamplify CAM FHD 60FPS Webcam has a 90° field of view. You can show off your gaming backdrop or conduct a full presentation over video, thanks to the wide-angle lens displaying your surroundings. Additionally, as this webcam utilises a plug and play design, you do not need to download any complicated drivers to configure these settings – everything happens automatically!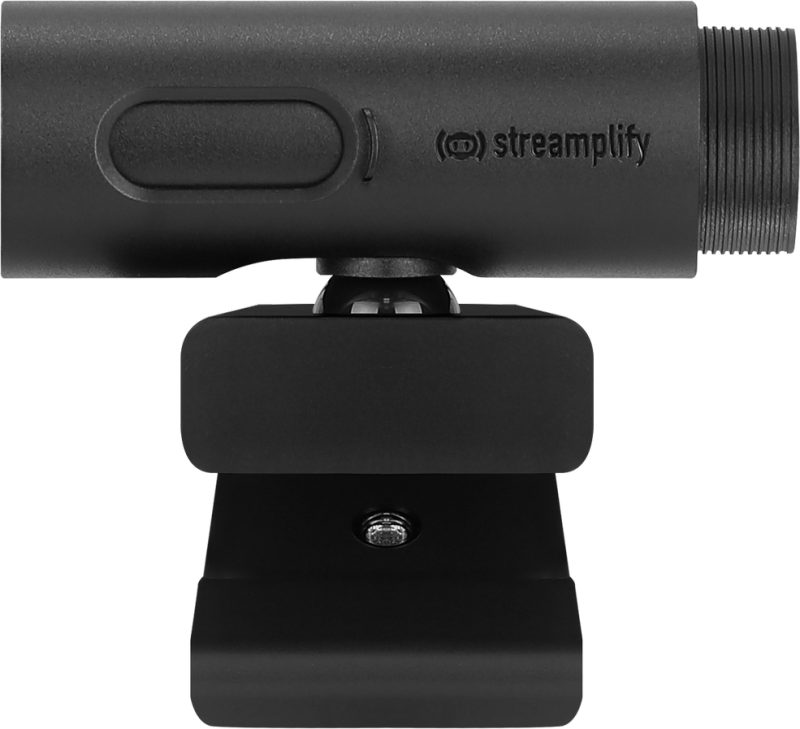 REALTEK AUDIO
Integrated within the Streamplify CAM are two microphones. Powered by Realtek, they are embedded on the front and side of the webcam. This creates a stereo effect for your audio, for fuller and clearer sound. Even without a dedicated microphone, you can produce high quality audio for your content.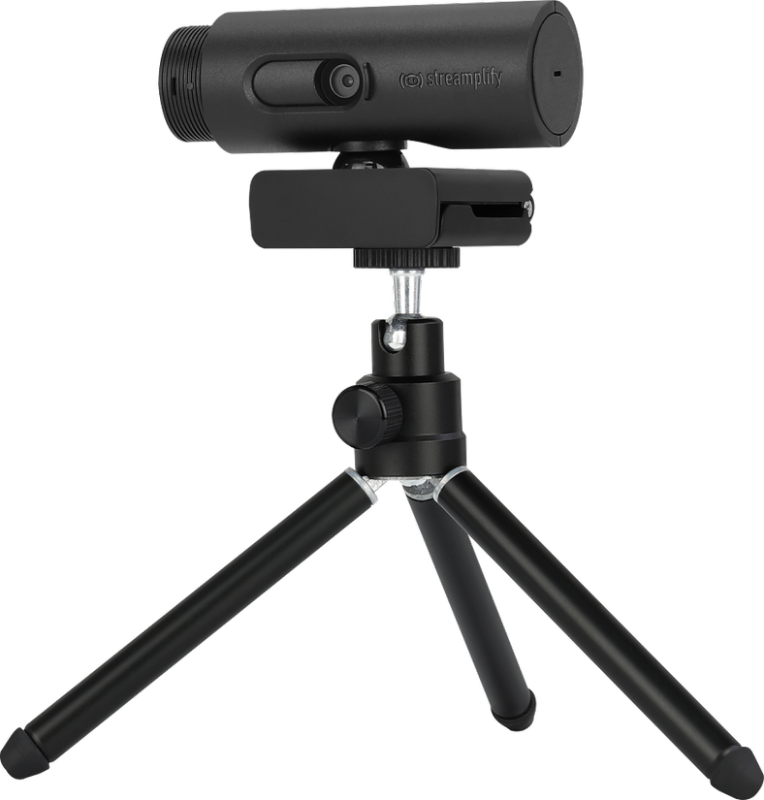 VERSATILE DESIGN
Maximising use, the Streamplify CAM FHD 60FPS Webcam has a versatile clip for attaching to your given surface. Compatible with laptops, monitors, and even desks, this webcam can be placed almost anywhere to suit your needs. Additionally, it comes equipped with a quarter-inch head that can be used to attach the included tripod. This grants you incredible flexibility for camera placement with every stream.
The tripod is sturdy and can be adjusted from 14.5cm to 21cm in height, with additional movement granted by the ball bearing. Smoothly centre your CAM to the exact angle you need. Each leg has a built-in anti-shock rubber foot, to absorb any knocks and bumps which prevents movement. They ensure reliability, allowing you to concentrate on your content not your camera. What's more, this tripod is foldable, meaning it takes up minimal space when not in use.
STREAMPLIFY CAM FHD 60FPS WEBCAM SPECIFICATIONS:
Brand
Streamplify
Model
CAM
Colour
Black
Image Resolution
2M pixel
1920 x 1080 FHD
CMOS Sensor
Image Format
YUV2
MJPEG
Frame Rate
620 x 480 @ 60FPS
1280 x 720 @ 60FPS
1920 x 1080 @ 30 / 60FPS
These are for MJPEG videos
Viewing Angle
90° field of view
Zoom Type
Digital
Focus Distance
70mm to infinity
Focus Type
Auto focus
Microphone
Dual microphones
Side and front placement
Signal to Noise Ratio
Larger than 40dB
Dynamic Range
Larger than 50dB
Brightness Enhancement
Yes
Power Required
5V
150mA
Plug and Play
Yes
Standard UVC and UVA protocol
Interface
USB 2.0 type A
Compatible to type 3.0 connector
Internal Cable Management Depth
22.6mm
Cable Length
200cm
Tripod Compatible
Support standard ¼ inch head
Compatible OS
Windows 11 / 10 / 8 / 7 / Vista / XP
Mac OS
Chrome OS
Supported Software
Streamlabs
OBS
Twitch Studio
Microsoft Teams
Google Meet
Skype
Additional Info
Use manual available to download
Proper Mint Ruction Camera
This camera gave my kick stream (greengraining) pure harsh ructions on camera (which is a shining review of video performamce may I add). The team at computer Orbit were friendly and helpful and guided me to the correct product to help my horror replay/elf stream take off. Thank you Computer Orbit.