Level up your production values with the Streamplify LIGHT 14 Ring Light. A 14" ring light, it features ten brightness levels and four colour temperature modes to perfectly illuminate you during your stream. Equipped with a smartphone holder and two camera mounts, however you record content, this ring light will always light up your best side. Plus, the two-in-one Selfie Stick Tripod allows you to operate this light in two distinct ways: Tripod Stand mode and Selfie Stick mode. Highly versatile, you can make content on the go and even keep devices charged utilising the extra USB port.
THE FEATURES OF THE STREAMPLIFY LIGHT 14 RING LIGHT AT A GLANCE:
14" ring light with 10 brightness levels and 4 colour temperatures
Includes smartphone holder, two camera mounts, and two-in-one tripod selfie stick
In-line controller for lighting setting adjustments on the fly
Versatile lighting solution that can be adjusted from 0.5m - 1.7m in height
Natural and vivid lighting with CRI ? 90
Additional USB port behind the Tact-Switch control panel for charging devices
Versatile and sturdy ring light for all your content needs
EASY TO CONTROL LIGHTING
The Streamplify LIGHT 14 Ring Light will level up the production values of your streaming. With ten brightness levels and four colour temperatures, you can find the perfect setting to illuminate your best side. The remote control or Tact-Switch control panel allow you to easily scroll through the different levels and tones, until you find the one to suit your needs.
Pure sunlight has a Colour Rendering Index (CRI) of 100, the Streamplify LIGHT 14 has one of ? 90. This equates to being able to replicate over 90% of the visible colour spectrum that is naturally produced by the sun. The result is rich, natural, and vibrant lighting, every time.
VERSATILE DESIGN
Thanks to its versatile design, the Streamplify LIGHT 14 can be used in your home studio or on the go. This is due to the two-in-one tripod selfie stick that can be operated in one of two modes.
In Tripod Mode, this ring light can stand between 50cm and 170cm tall. The base consists of three feet that extend outwards to provide a stable foundation. The pole features four extension points, evenly spaced at full height to provide maximum support. In this configuration, it is perfect for illuminating the room.
Alternatively, in Selfie Stick mode, you can take the Streamplify LIGHT 14 on the go. Simply remove the main pole from the base and you have an extendable selfie stick, for when you content creation takes you out and about. Due to the ring light being powered by the mains, however, the lighting is not portable as well.
Additionally, the package contents include a smartphone holder and two camera mounts. Attaching to the middle of the ring light, this provides the best lighting for anything you record on your phone or camera. What's more, you can create a multi-camera set-up with this ring light and other accessories from the Streamplify range.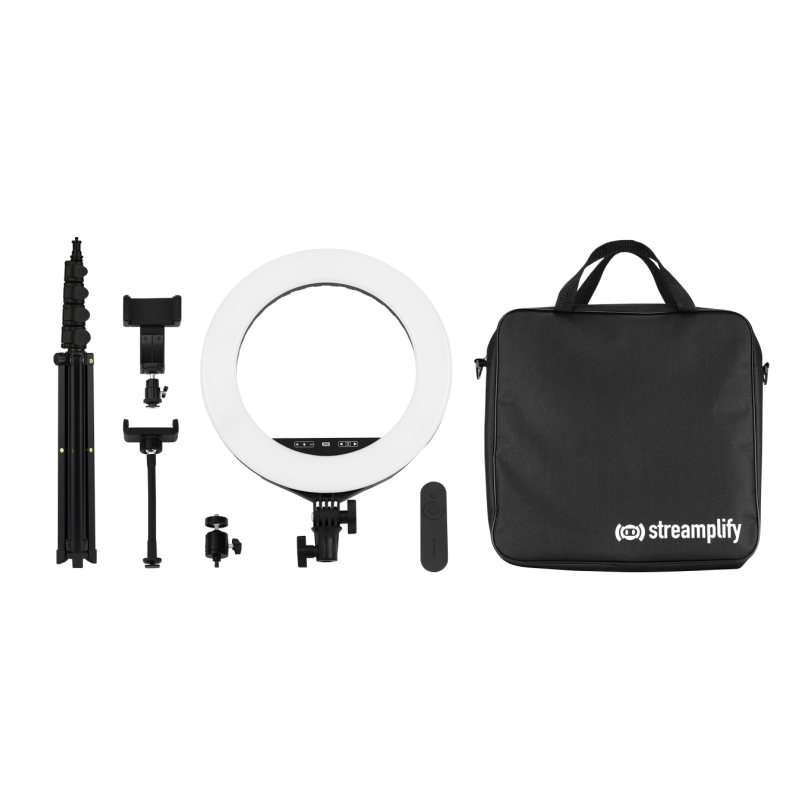 CHARGING DEVICES
As the Streamplify LIGHT 14 is powered by the mains, this creates the opportunity for supporting your recording device. On the back of the Tact-Switch control panel, there are two 5V USB ports designed to keep your phone charged whilst you use the battery intensive camera function. Never worry about your phone dying mid-stream!
STREAMPLIFY LIGHT 14 RING LIGHT SPECIFICATIONS:
Brand
Streamplify
Model
LIGHT 14
Ring Light Size
14" / 36cm
Outer diameter size
LED Diode Number
72pcs
Power Consumption
36 watts (max)
Power Supply
AC 100-240V
Brightness
10 levels
2250 lumens (max)
CRI Rating
? 90
Colour Temperature
4 levels
3000K - 6000K
Control Mode
IR remote control
Tact-Switch control panel
Two-In-One Tripod
Included
Height Adjustment: 50cm – 170cm
Selfie Stick mode
USB Charging
2 x USB 5V slots
Smartphone Holder
Included
Supports phones up to 76mm wide
Gooseneck holder
Camera Mount
Included
Ball mount
Quarter-inch screw head